"Pledging Our Allegiance to Christ...
and Service to Others"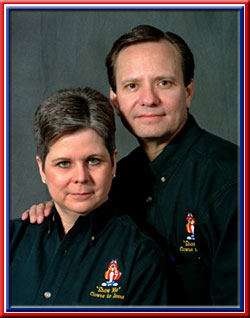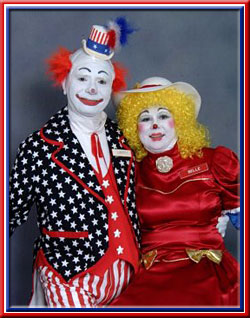 Our Mission: To share the love and hope of Jesus Christ...
(Jesus said) "I tell you the truth, whatever you did for one
of the least of these brothers of mine, you did for me." Matthew 25:40


Dana "Liberty" and Jane "Belle" Abendschein have been clowning professionally for over 18 years and are actively moving towards full-time ministry. Initially, God called them to prison ministry and they have seen Him touch the lives of hundreds of inmates through their clown characters.

In 1998, they started Story Link® Program where inmates who are 90 days free of violations can read a book on tape to their children to strengthen family ties. Since the program was started, over 20,000 books have been read and sent to the children of offenders!

The additional calling to children's ministry came out of many years helping with festivals at children's homes and VBS. In 1998, Jane started a Clown Docs program at St. Louis Children's Hospital, which provides in-room visits for patients and their families. They have served on the faculty at numerous conferences including the National Creative Arts Festivals, TNT, Kentucky Clown Derby, and the Show Me Clowns for Jesus National Conference, which they help to coordinate. In 2000, both the Missouri Baptist Children's Home and Parkway Prison Ministries® honored them as volunteers of the year.

To learn more about this ministry or to invite Jane and Dana to your next event, e-mail: libertyandbelle@aol.com or call 314.822.5315.

References available on request.

Please click HERE to view, save and/or print our clown resume in Adobe .pdf format






Our Mission: To share the love and hope of Jesus Christ...
(Jesus said) "I tell you the truth, whatever you did for one
of the least of these brothers of mine, you did for me." Matthew 25:40





-|- -|- -|- -|- -|- -|- -|-


Comments, corrections or additions please email: gtcdesigns@gitsy.com


Original Programing and Graphic design Copyright © 2007 - 2010
GTC Designs & Liberty Belle Ministries All Rights Reserved