"If the Son sets you free, you are truly free" John 8:36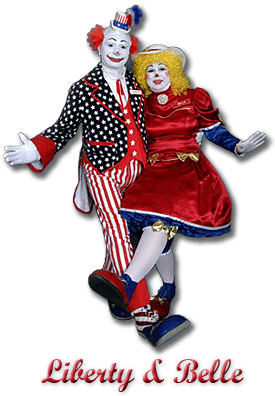 Liberty and Belle have been leading fast-paced praise and worship services in Missouri and Illinois state prisons since 1988. Together with a group of their clown friends, they sing, do funny skits, and use puppets to entertain, but also to minister the gospel in a way that no other ministry can. They have witnessed God move in the hearts of literally hundreds of men and women and seen them come forward at the end of a service to make first time professions of faith in Jesus Christ or to rededicate their lives to Jesus. One man said, "I never really understood my need for Christ until I saw the clowns do the skits."

After God provided the Story Link Program, Dana and Jane have been able to deepen the relational ministry provided to inmates with use of occasional 'clown worship services' lead by several of the Story Link volunteers who are also clowns. In addition to the clowns, the worship team is comprised of puppeteers, singers, and lay counselors from Missouri and Illinois. This program delights the prison audiences who try to figure out which of the volunteers are clowns. For months afterwards, the inmates often call the volunteers by their clown names and it's obvious that the service works together with Story Link Program to draw them to Jesus. Hebrews 13.1 says "Keep on loving each other as brothers." How can we do that if we don't know those who have been locked away in prison?

Please see our Story Link Program page for just some of what the Lord
has called us to do in His prison ministry.

Please stop back soon for more updates from Dana & Jane.

Liberty Belle Ministries
9909 Manchester Rd. #327
St. Louis, MO 63122-1915
314.822.5315
Libertyandbelle@aol.com



Our Mission: To share the love and hope of Jesus Christ...
(Jesus said) "I tell you the truth, whatever you did for one
of the least of these brothers of mine, you did for me." Matthew 25:40





-|- -|- -|- -|- -|- -|- -|-

Comments, corrections or additions please email: gtcdesigns@gitsy.com


Original Programing and Graphic design Copyright © 2007 - 2010
GTC Designs & Liberty Belle Ministries All Rights Reserved