The CLOWN DOCS at St. Louis Children's Hospital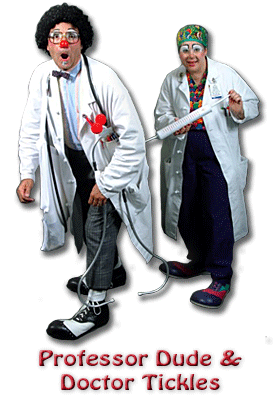 Program History

In September 1999, the Clown Docs began making 'rounds' at St. Louis Children's Hospital. The goals are to treat the "funny bone" of the patients and to bring a smile to family members and staff. The Clown Docs including Jane (the Boss clown) "Dr. Tickles" Abendschein, Dana "Professor Dude" Abendschein, Curt "Dr. ICU" Patty, Diana "Nurse Sniggles" Patty, and Debbi "Bubbles the Scrub Nurse" Schwarz try to place the patient in charge of the interaction and create an atmosphere where playfulness can serve as a distraction to the pain and tedium of the hospital. This gives a measure of control to the patient, control that is often lost in the hospital environment. The Clown Docs serve as a partner with healthcare providers and do not use humor and antics to undermine the authority of the hospital or its staff. The program is administered by Child Life Services and the clowns are employed as part-time (prn) staff of the hospital. The program is supported by an annually reviewed grant from the Children's Hospital Foundation.

Humor Benefits the Patient

The effects of humor and laughter on patients recovering from illness have been well documented. For example, laughter elevates heart rate, increases oxygenation of the blood and lowers circulating levels of stress hormones. It massages the muscles and vital organs, and it decreases pain thereby producing a feeling of well-being. Laughter also encourages expression, increases feelings of competency and independence, and enhances a positive self-image.

Humor benefits Hospital Staff

Laughter also benefits healthcare providers and caregivers. Sharing laughter with hospital staff fosters a positive attitude that enhances the ability to face difficult issues. Humor can also provide a release of emotions and stress that hinder optimal performance of the staff.

The Clown Docs' Routine

The Clown Docs currently round three days each week (4 hours per day) visiting the Hematology/Oncology Clinic twice each week, Neuro-Rehab, Dialysis Clinic, Orthopedics Clinic and Radiology once a week, and the remaining in-patient floors on a rotating basis. The Clown Docs work in pairs (male and female clown) and check-in with the Charge Nurse before entering any rooms so that issues of infection control and patient needs are communicated. The five Clown Docs are highly-trained professional clowns with a combined 75 years of clowning experience. Each is required to attend annual conferences that enhance their clowning skills and to learn more about therapeutic clowning. Clown Docs have also received training in infection control and precautions in the hospital environment and participate in training provided by the hospital before rounding in any specialized unit.

What Does the Hospital Think of the Program?

At St. Louis Children's Hospital in 2006, the Clown Docs visited more than 5,500 in-patients and 4,000 clinic patients and their families. Enthusiasm for the program from staff and physicians continues to increase as indicated by numerous requests for involvement in special activities and public functions of the hospital, and statements such as:

"Clown Docs are a vital aspect of the Child Life Program. Their visits to the pediatric floors are eagerly looked forward to by patients, family and staff. The success of the program has been recognized locally, nationally and internationally. The fact that Washington University School of Medicine has approved an elective rotation with the Clown Docs is both unprecedented, and is a tribute to the important nature of this type of work." Jeffrey A. Lowell, MD, FACS, Associate Professor of Surgery, Washington University School of Medicine.

"These dedicated doctors entertain children with hematologic and oncologic diseases in both the outpatient and inpatient settings. Our patients and families anticipate visits from the clowns as this often turns a somewhat scary experience into something enjoyable for children and adults alike. In addition to their entertainment value, the Clown Docs serve a vital education role in that they demonstrate medical instruments and procedures to the children in a non-threatening and sometimes comical fashion, reducing the child's anxiety." Michael Kelly, MD, Instructor, Department of Pediatrics, Division of Hematology and Oncology, Washington University School of Medicine.

The 'Medicine of Laughter' Class at Washington University School of Medicine

The Clown Docs program is also providing a unique opportunity to influence the future of medicine. Beginning in 2000, a credit course was offered for first year medical students called "The Medicine of Laughter". Students read and discuss literature describing the physiological and psychological benefits of humor, and discuss how humor can play a positive role in the doctor/patient relationship. They also shadow the Clown Docs to observe the effects of humor in the hospital setting. Those that choose to do so may participate in a "super-selective", in which they learn about clown character development, make-up, costuming, and basic clowning skills. We believe this is the first course of its kind included in the curriculum at a medical school in the United States.

Resources on the Clown Docs and How They Could Help You Start a Similar Program

Numerous articles and television news stories reporting on the Clown Docs program are cited below. For more information about the Clown Docs or to arrange a one to three day personalized teaching workshop with Dana and Jane, please contact them at Liberty Belle Ministries for a quotation.


1.

"Clowning Around. Husband-wife team bring joy to the sorrowful". Record.

Washington University St.

Louis, MO. April 29, 1999.

2.

Cover Story. Children's Magazine. Fall 1999.

3.

KSDK-TV Channel 5 Cover Story. October 25, 1999.

4.

"Clown Rounds Help Sick Kids Smile". BJC Today Vol. 2, No. 21, page 13.

5.

"Clown Docs. St. Louis Health Professionals Bring Light to Children's Lives". Word & Way, February 3, 2000, page 1.

6.

"Clown Docs Offer Course". BJC Today Vol. 3, No. 8, page 6, April 17, 2000.

7.

"Clown Docs – St. Louis Children's Hospital". Hospital Clown Newsletter Vol.5, No. 3, pages 1-16, September 2000.

8.

"Students Learn to Use Laughter as Medicine". Record. Washington University School of Medicine, Vol. 25, No. 5, page 3, September 29, 2000.

9.

News Release. St. Louis Children's Hospital. September 6, 2000
| | |
| --- | --- |
| 10. | KTVI-TV Channel 2. Newscast. December 12, 2000. |
| 11. | KSDK-TV Channel 5 Cover Story. December 26, 2000 |
| 12. | Blankenship, J.: "A Little Bit of Laughter Goes a Long Way. Clown Doctors Program at St. Louis Children's Hospital". Bulletin: Journal of the Child Life Council Vol. 2, No. 3, 2001. |
| 13. | KMOV-TV Channel 4. Newscast. March 15, 2002. |
| 14. | KPLR-TV Channel 11. Newscast on "Laughter is Good Medicine…No Fooling" Conference, March 29, 2002. |
| 15. | KPLR-TV Channel 11. Kids Corner, May 2003 |
16.

MD Consult. "The Therapeutic Value of Laughter: Clowning Around in Hospitals". www.mdconsult.com. Posted May 15, 2003

17.

Theis,A., Piatte, K., Miller, T.:

The Joyful Journey of Hospital Clowning: Making a Difference with Love and Laughter

. Lighthearted Press,

State College, PA.

2003. The St. Louis Children's Hospital Program is highlighted on several pages.

18.

Abendschein J, Abendschein D. "Humor in

Medical School

– From Classroom to Bedside", March 1-2, 2003. Association for Applied and Therapeutic Humor Annual Conference.

19.

KMOV-TV Channel 4. Newscast. May 27, 2004.

20.

St. Louis Post-Dispatch

, August 23, 2004. Researcher-turned-clown finds fulfillment in creating laughter.

21.

WNEG-TV Channel 32,

Toccoa, Georgia

. Newscast, "People Learning How to Be Hospital Clowns". August 1, 2005.
22.

The Toccoa Record, August 5, 2005. "Clowning Around".

23.

KTVI-TV Channel 2. Newscast. October 6, 2005.

24.

St. Louis Post-Dispatch

, November 14, 2005. Under the Microscope: "Humor as Medicine".

25.

Suburban Journal, July, 2006.

Liberty Belle Ministries
9909 Manchester Rd. #327
St. Louis, MO 63122-1915
314.822.5315
Libertyandbelle@aol.com



Our Mission: To share the love and hope of Jesus Christ...
(Jesus said) "I tell you the truth, whatever you did for one
of the least of these brothers of mine, you did for me." Matthew 25:40





-|- -|- -|- -|- -|- -|- -|-

Comments, corrections or additions please email: gtcdesigns@gitsy.com


Original Programing and Graphic design Copyright © 2007 - 2010
GTC Designs & Liberty Belle Ministries All Rights Reserved